Hey Mis Fitters!,
Can you believe we are almost into April??? We are a quarter of the way through 2019 already!. Have you guys been following along with March matness and trying out a few Pilates moves?.
Its been a busy few months here at Little Mis Fit since going Full time which is fantastic. It really has been a bit of a whirlwind . I'm heading off for a little break this weekend though , which I am really looking forward to, a chance to catch my breathe and recharge ready for the next quarter. It really is so important to take time out to recharge your batteries. You really do feel so much better for it. So make sure you guys are taking some time in your day or week just for you, to enjoy a little time out. April is actually Stress awareness month so I'll be sharing some tips and ideas here on the blog and over on my social media pages , so be sure to come follow us –
Instagram – @ Littlemisfitjojo .
Facebook – www.facebook.com/lilmisfit1
April is also Caesarean awareness month , as a Post Natal instructor , I'll also be sharing some tips and stretches and exercises for new mams.
Of course this Month we also have Easter. Does anyone else think that Easter Eggs are even nicer than regular chocolate?. I mean I've always been a Cadburys Chocolate button kind of girl – I have a bit of an addiction to be honest, but Easter eggs are just so yummy and it really does not help when the Supermarkets sell them half price – far too tempting
April happenings at Little Mis Fit
Kids Yoga camp at Believe and Be.
On Monday 15th April, I will be running one of my Yoga camps at Believe and Be for kids age 4-7. We start at 1130am, where they will enjoy 90 minutes play in Believe town, followed by a picnic lunch and then an afternoon of Yoga and crafts until 3.30pm. £18 per child including lunch. We currently have 3 spots left, so please get in touch if you would like to book one.
April Online classes
Our Online programme is just £10 for the month and you will get access to a variety of classes via a private Facebook group that you can do at home at a time that works for you. New workouts are added weekly. Please get in touch if you would like more information or would like to sign up for April.
Post Natal Pilates
Our next round of Post natal Pilates starts Friday 5th April for 6 weeks ( we do miss Good Friday -19th April, and finish Friday 17th May so we get the 6 sessions in. £35 for the 6 weeks. Sessions will be 1130am-1215pm at Taylored Fit Physio , Langley Park. This is a class for mam and baby and suitable from 6 weeks Post natal provided you have had your 6 week check from Midwife or Dr. This can be up to 12 weeks if you have had a C section.
Small Group Training –
Our Next rounds of Small group training for April are full for both Pilates and Fat Burning. They are already filling up for May/June too so if you would like a space , please drop me a message.
Easter Weekend.
No classes Good Friday – 19th April or Easter Monday – 22nd April. However Easter Saturday – classes will be on as normal.
April Class Timetable
Monday
Barre Burn 6.30-7pm @ North Durham Academy
Pilates 7pm-7.45pm @ North Durham Academy
Tuesday
Body Sculpt 7.pm-7.30pm @ Tesco, Consett * currently sold out with wait list available **
Wednesday
Pilates 0945am-1030am @ Annfield Plain Church
Pilates for mam and toddler 1030am-1115am @ Annfield Plain Church
Thursday
Pilates 6.45pm-7.30pm @ Delves Village Hall
Men on Mats Pilates 7.30pm-8.15pm @ Delves Village Hall
Friday
Post Natal Pilates 1130am-1215pm @ Taylored Fit Physio, Langley Park
Pilates 6.30pm-7.15pm @ Annfield Plain Church
Saturday
Body Sculpt 9am-9.30am at Delves Village Hall
Family yoga 1015am-11am @ Delves Village Hall – please note this class will run in April subject to numbers.
April is also my last month in my 30's!. In May I will be turning 40 eeeeeekkkkkk!.
Wishing you all a fabulous April aand please do come say hi over on Instagram or Facebook . You can see what I get up to behind the scenes over on Instagram stories 😂.
See you in classes!
Joanne x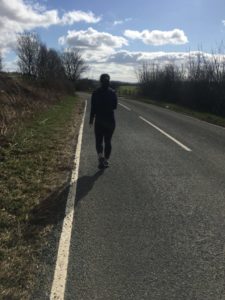 I'm loving getting out in the spring sunshine for walks 😄.