Hey Mis Fitters ,
I hope you all had a fabulous Easter – how gorgeous was the weather!!! , at least here in the UK!. It was glorious and really felt like summer had come early. My poor boyfriend though was in Spain on a Stag do and it chucked it down! Still they took refuge in the pub and still had a great time and I think they just avoided all our social media posts of us all back home basking in the sunshine!.
I spent a lot of the Easter weekend out in the garden , it really is my peaceful place and I love to head out there with my book and a cup of tea or on occasion a cold glass of Sauvignon Blanc. This past weekend I've been reading the Mrs Hinch book , I really enjoyed it. It was her story and also had plenty of her cleaning tips in too. Aswell as reading though I was also working on planning out May here at Little Mis Fit . Though I did also fit in a trip to Ramside spa for a night with some of my friends to celebrate a few of our birthdays. We had an absolute ball and of course with the weather being so lovely, it felt like being on holiday sitting by that outdoor pool , sipping prosecco, loving life!.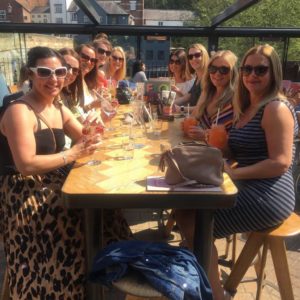 May for me is Birthday Month! , Its a big one this year aswell, so plenty celebrations. I always feel like birthdays are always special though – not everyone gets to grow old so every birthday should be celebrated.
May Happenings
May class passes will be on sale from Friday 3rd May and are valid until 31st May.
8 session pass – £35
12 session pass – £50
Unlimited monthly pass – £60
I am away Wednesday 1st May and Thursday 2nd May so no classes either of these days. We also have two bank holidays in May – Monday 6th May and Monday 27th May so no classes these days either.
May Class Timetable
We have been incorporating lots of Weight work in our sessions. We already use them a lot in our Barre Burn class and we have started using them in our Small Group Pilates sessions aswell, which the guys are loving.
We will definitely be using the weights more in other classes too such as body sculpt. Weights help us to build muscle which in turn burns fat and of course helps us tone up. Did you also know though that weights also help keep our bones strong especially as we get older and our bones become more brittle. Keeping our bones strong by using weights and body weight exercises can help us reduce our risk of brittle bones as we do get older, so it is important to build that strength up and lets face it none of us want bingo wings do we!. hands up if every time you wear a strappy top , you think to yourself – I wish my arms were more toned!.
if you would like to invest in some weights for classes – get either 1kg or 2kg ones for the Pilates/Barre burn/Body Sculpt . I got both sets from Argos.
Monday
Barre Burn 6.30pm-7pm at North Durham Academy, Stanley
Pilates 7pm-7.30pm at North Durham Academy, Stanley
Tuesday
Body Sculpt 7pm-7.30pm @ Tesco, Consett
Wednesday
Pilates 9.45am-1030am at Annfield Plain Methodist Church
Pilates for mam and Toddler 1030-1115am at Annfield Plain Methodsit Church
Thursday
Pilates 6.45-7.30pm at Delves Lane Village Hall
and
Men on Mats Pilates 7.30-8.15pm at Delves Lane Village Hall
Friday
Pilates 6.30-7.15pm at Annfield Plain Church
Saturday
Body Sculpt 9am-9.30am at Delves Lane Village Hall
Family Yoga 1015am-11am at Delves Lane Village Hall – subject to minimum numbers.
please do book for all classes as some do sell out quickly. if you are booked and can't make the class, please let me know as soon as possible. *
At Home Workouts
Our At Home workouts are currently available via a private Facebook group, though I am hoping by the end of the year to also be able to offer the at home workouts to those not on Facebook too – so watch this space.
For just £10 per month , you get access to our online workouts – there are a mixture of HIIT workouts, Pilates , Barre, strength and Conditioning and Core workouts so plenty to chose from. I also add two new workouts every week.
For more information or to sign up for May, see me at class or drop me a message.
Small group training
our next Small Group training Programme kicks off Saturday 18th May and will finish Tuesday 25th June.
Both our Fat burning and Pilates small group both often sell out quickly. it is very rare that a space becomes available in the Pilates group but we do have a possible place in this next round.
Pilates Small group details
Saturday 8.15am-9am at Delves Village Hall
and
Tuesday 6.15pm-7pm at Tesco, Consett
You can do both sessions per week – £120 for the 12 or you can choose either the Tuesday or the Saturday session and its £60 for the 6 sessions .
Fat Burning Small group details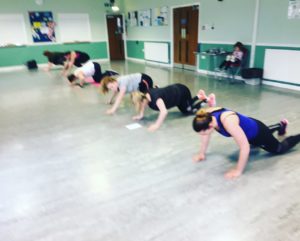 Saturday 9.30am-10am at Delves lane Village Hall
and
Tuesday 7.30pm-8pm at Tesco, Consett
£120 for the 6 weeks. *currently just 1 spot left *
After school Yoga
I am looking at running another After school Yoga class from Thursday 9th May for 6 weeks at Delves Lane Village Hall 4.30pm-5.15pm . for kids age 4- 10. £35 for the 6 weeks. Drop me a message for more information or to book a space.
Wishing you all a Magical Month of May!
Joanne x